Leticia Raises her Garden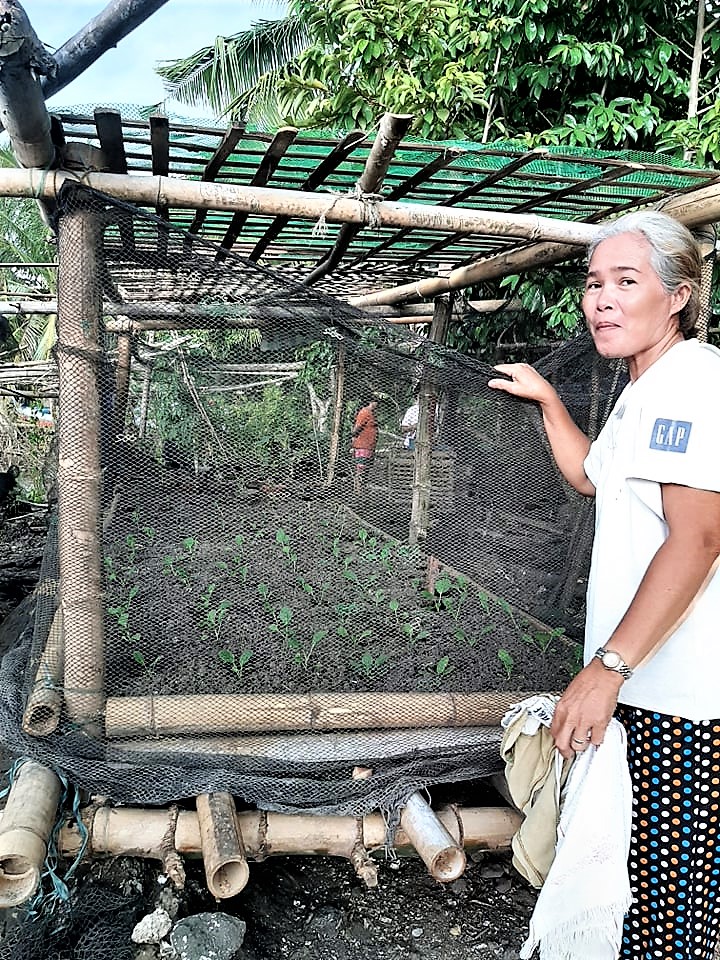 "Before I joined the planting drive, my family just relied on whatever fish catch my husband would get from his stationary fishing gear.  Half of the time, there was enough fish for my husband to sell and for my family to eat.  In such a case, we felt blessed.
But on the other half – when the moon shines brightly at night or when there was a typhoon – my husband could only catch a few fish, and sometimes none at all. As a result, we did not have enough food to eat.
I joined the planting drive because I saw the importance of having food sources from plants during this time of pandemic and many natural calamities.  However, planting here in our place was not an easy thing to do.  Saltwater has begun to flood our land, making it very difficult to grow plants.  But I did not give up.
I thought of a plan on how to grow plants even with this situation.  I mobilised my family members to haul rocks and soil so we could make elevated beds using bamboo and rocks. We made use of whatever things we could get our hands on – old plastic containers, fishing net, coconut shells.
We now have food to eat any time of the year
Through hard work, my family and I were able to grow fruits and vegetables. Right now, I have pechay or bok choy, banana, papaya, string beans, bitter melon, eggplant, squash, winged beans, and other green leafy vegetables. I have also started to sell our vegetables within our barangay or village.  The income that I get from vegetable sales helped a lot in adding to the family income.  We now have food to eat any time of the year.
Some buyers even come to our house to buy our produce.
With the stricter community quarantine, especially now with the feared Delta variant, people are not allowed to leave the island.  For me, a market for my products is not a problem because inside this island, I am able to sell them all."
Spotlight on Developers Foundation
The planting drives have been a huge success.  Tens of thousands of fruit trees, vegetables and tubers have been planted in ten barangay or villages by 1,737 households.  Developers has organised planting drives on the northern coast of Aklan province in the Philippines.  40 individuals have benefited from short-term interest-free loans for example for gardens, pigs and sewing.  Its work has focused on improving food security and family livelihoods as well as preparing for the next disaster.  Staff have organised training and supported local government on development and disaster preparedness plans.  CWS funding provided materials for the people to build and set up their own mini market selling vegetables, fish, food products and craft.
Letcia explains
"Life has become increasingly difficult and more challenging during the recent years.
The bay is now crowded with fishing gear due to the increase in the human population.  There are fewer fish to catch, causing stiffer competition among fishers.
Stronger typhoons are occurring more frequently now than in the past.  Every time a typhoon passes by, our fishing gear gets damaged.  Repair or reconstruction of damaged gear is not only expensive but deprives my family of opportunities to generate food and income.  Although Typhoon Ursula was less powerful than Yolanda (Haiyan), many trees were uprooted. Everyone just stayed inside the house and prayed that the winds and the rain would stop."
Leticia has benefited from Fruit Trees.    Start a Garden will also help families like Leticia's in the region.