Chickens and a Dream Garden
Happy Chickens feed a family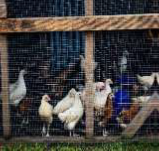 Mrs Lelenoa (79 years) is proud of her chickens and the well-built chicken coop that keeps them safe.   A gift of Feathered Friends helps families recover after the eruption of Hunga Tonga-Hunga Ha'apai and the tsunami that followed in 2022 thanks to our partner Tonga Community Development Trust,
"This project matches my passion because I enjoy raising chickens and can share my passion with my grandchildren," she says.
Mrs Lelenoa is a mother of six grown children and grandmother of 19 grandchildren.  She is an active woman with multiple passions, mainly outdoor activities including gardening, home beautification, composting and now raising chickens.
She is a pioneer resident of the Anana neighbourhood.  She fully supports women's development activities and maintains harmony in her community.  During the interview with Tonga Community Development Trust, she highlighted the way this project supplemented her food security.
"Sometimes we don't have meat for dinner due to a shortage of savings [cash].  Now it's different, we have delicious chicken that we have raised," she adds.
Mrs Lelenoa is very content with the outcomes [of the project].  Now her siblings are also raising chickens.
A Dream Garden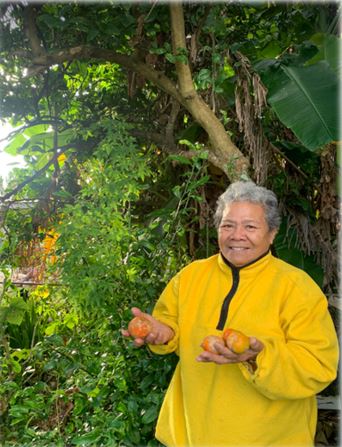 A resident of the Sopu neighbourhood, 71 year old Soana Olivia Moala is proud of her garden, made possible by the Garden of Dreams gift.
"I have been the president of our women's development group in our little community for over 20 years.  I can tell you countless stories of our significant achievements," she says.
Mrs Soana Moala and her husband share an interest in filling their home and garden with numerous plants – medicinal and cultural plants, and also fruit trees.
"My home is decorated with varieties of plants and I am passionate about preserving traditional and cultural plants," confessed Mrs Moala.
Her garden is flourishing – fruit trees like lemon and pawpaw continuously produce fruit for the family.  Tonga Community Development Trust could see the good outcomes she had obtained from her hard labour and investment.
Mrs Moala and her group were fortunate to receive fruit trees with the gift, Garden of Dreams.  She was able to plant passionfruit, lemon and kava plants to add to her fruit tree collection.  Due to the location of their community and its vulnerability to natural disasters, Soana has been able to sustain her family's food security because she has a dream garden full of fruit trees at her home.
As she explained, she is content to share the good yield (lemon, pawpaw, breadfruit and other fruits) from her fruit trees with her neighbours, siblings, and group members.
"The price of fruit trees at the market is overwhelming.  That is why I am happy to give seedlings away for free. The more I give the more yield I get.
"I am Soana Olivia Moala, 71 years of age.  I am still proud to continue decorating my home with any kind of plants because it is my passion."