A home garden has given Eusebia security
Women's Home Garden provides a family with seeds, plants and training in horticulture.
I heard it on the Radio
"A few years ago I heard that CEPAD was coming to work with poor families in the communities of Teustepe (in Nicaragua). I met with members of my church and community leaders and we sent a letter to the CEPAD representative in the municipality.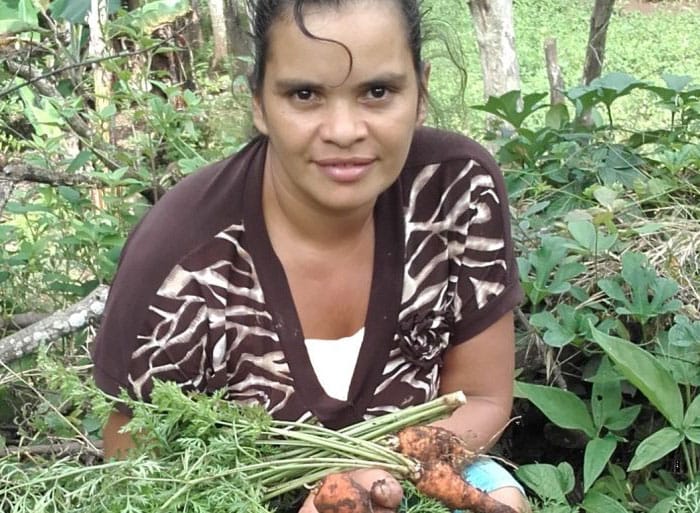 The biggest impact in my family has been to grow our understanding of food security, learn and prepare the soil to produce food and eat healthier for my children.
Growing School Gardens
I have shared what I have learned with my family and with neighbours in my community. The teachers at the primary school have also allowed us to put gardens in at the school to take advantage of the interest of the students.
In the school gardens, we are sharing our knowledge about growing a garden with 24 children who are growing cucumbers, onions, beets, green peppers and watermelon and helping them to improve their diets.
We are harvesting papaya and both selling it and eating it in our family. We sold 100 papayas at $1.65 each for a total of $165 profit. We also sold 100 carrots for $.65 each, for a total of $65. With the $230 of profit we earned, we have purchased medicine for my family and we have purchased other foods to complement our family diet.
I have learned to eat vegetables that I had never even seen before. I have also learned to make pineapple jelly and plantain cakes which have helped my children to eat better." Eusebia
"CEPAD is a blessing because they support families in different ways without expecting anything in exchange. It is an organisation that reaches the hearts of people with projects destined for the community." Eusebia
Spotlight on CEPAD
CEPAD (Consejo de Inglesias Evangelicas Pro-Alianza Denominacional or Council of Protestant Churches of Nicaragua) was set up in response to a large earthquake on 23 December 1972. It moved from emergency relief to development and peacemaking. Staff were deeply involved in peace negotiations during the civil war, trained peace mediators to settle community conflicts, and now equips young people to run self-help groups in isolated rural areas where there is no psycho-social help.
CEPAD works in communities for five years, setting up local development committees, which are trained to meet their own objectives. Staff train and support farmers, especially women, to grow a variety of foods using sustainable methods. CEPAD supplies seeds and plants from its nurseries, tools, water pumps in drought prone areas, and animals.